why switch to hellospoke business voip phone service?
We make things simple. We love to geek out over VoIP business phone service so you don't have to. You get a simple, reliable phone service with all the latest technology … and we get to do what we do best. We love phone calls! Here's how it works:
To the Cloud!
We move your phone system to the cloud and use your existing internet connection to make and take phone calls.
VOIP TECHNOLOGY EXPLAINED
Ditch the phone company
Because your phones are now using your internet connection, you can say goodbye to the phone company, and their monthly bill.
SEE HOW OTHER CUSTOMERS ARE SAVING
Work from anywhere
You now have your desk phone in your pocket. The hellospoke app gives you the same great functionality as the phone on your desk.
CHECK OUT OUR MOBILE APP
Switching to hellospoke can save small to medium-sized businesses as much as
50% each month
over traditional phone services.
TRANSFORM THE WAY YOU COMMUNICATE
Cost Savings
Stop paying trip charges, service fees, and maintenance contracts.
Dashboard
Get an overview of your business – inbound/outbound call reports, call recordings, internal presence, texting, and manage all company contacts in one place.
Freedom
hellospoke is anywhere you are – desktop or mobile. Never miss a call or message again.
Flexible
hellospoke allows you to add and remove extensions as your business needs change.
One Flat Fee
No more confusing invoices! One flat fee. No longterm committments.
Disaster Recovery
If your internet or network were to go down, calls can still be answered through the hellospoke mobile client.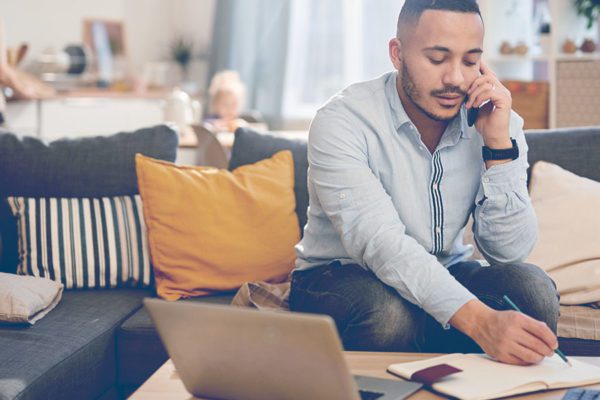 Need a work-from-home plan just in case? Whether you are thinking about giving employees the option to work from home...
read more →
March 12, 2020
What our Clients Say
HelloSpoke was by far the easiest and most cost effective way for us to upgrade to VoIP. Using the mobile app allowed us to avoid the hassle and cost of purchasing hardware or running cable, and ended up with a system that was quick to implement with great call quality and mobility.
- Air Systems, LLC
We expect our phones to work. And work all the time. Outside of that, we've never given our phone system much thought. The fact that we could switch to HelloSpoke and get the latest technology and features AND save 40% on our monthly phone bill has been fantastic.
- C & F Insurance
Our move ended up being a disaster! Because of building issues, our people had to work out of both the new and old building for about 10 weeks. Thankfully we had switched to hellospoke, and could operate seamlessly and transfer calls between buildings like they were in the office next door. In our industry, sales are totally dependent on response time, and with hellospoke, we didn't have any lapses in response.
- Republic Pneumatics