With hellospoke phone service it's business as usual – no matter your location.
Are you thinking about giving employees the option to work from home? Or closing the office to ensure social distancing?
We have 2 options to keep your remote workers up and running.
Forwarding your numbers
We'll take your existing business phone number and forward it to our cloud-based auto attendant. From there, calls can be forwarded to any outside numbers (e.g., mobile phones).
Cloud-based phone service
Make the switch to hellospoke's cloud-based phone service and you'll have four phone options to make and take phone calls outside of the office. All you need is internet.
FORWARDING YOUR NUMBERS
(temporary solution)

How it works
We'll take your existing business phone number and forward it to our cloud-based auto attendant. Once a direction is chosen from the auto attendant menu, callers are routed to the extension and then forwarded to an outside number of your choosing. E.g.: Your Favorite Customer calls the main number and dials x130 for Ben. Ben is working from home and asked for his extension to be forwarded to his mobile phone. Ben receives the call from Your Favorite Customer on his mobile.
You will have access to call history, reports and recording (if you turn recording on). 
This is a temporary solution and is only for incoming calls. If you need to handle inbound and outbound calls and would like to switch to a cloud-based phone service, read more here.
Set up
We'll need to know which numbers you want forwarded, what you want to say on your auto attendant, and which extensions need to be forwarded to which external numbers. Once we have all of this information, we could have your numbers forwarding in a day!
Pricing
$150 set-up fee
$10 per extension/per month ($50 minimum)
500 minutes (2 cents a minute after)
One month minimum. Cancel anytime. Balance forward billing.
Contact us for more info
CLOUD-BASED PHONE SERVICE
(4 options to make/take phone calls outside the office)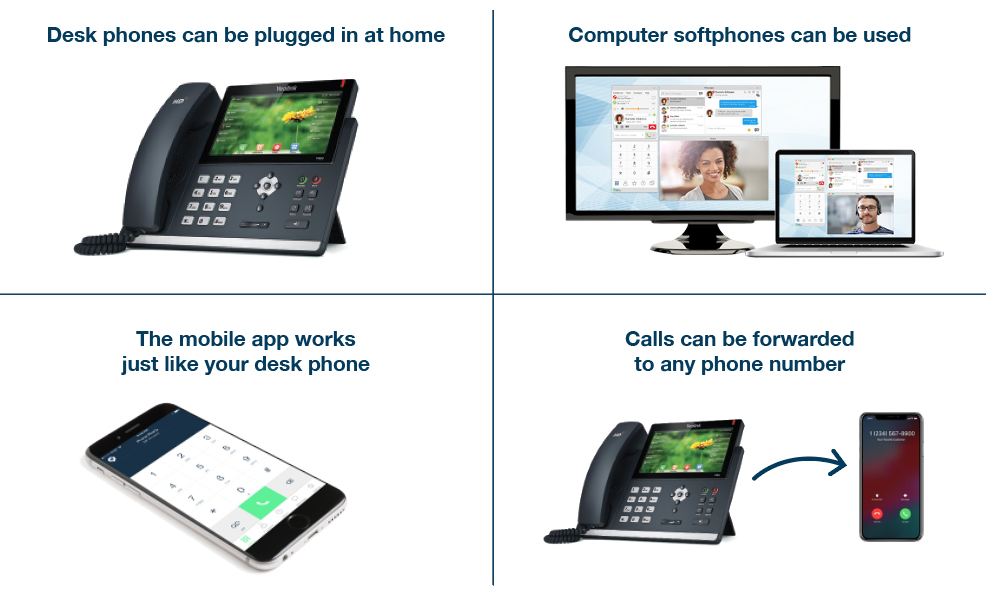 To the cloud!
We move your phone system to the cloud and use your existing internet connection to make and take phone calls. And you'll get all of these great features!
Ditch the phone company
Because your phones are now using your internet connection, you can say goodbye to the phone company, and their monthly bill.
Work from anywhere
You now have your desk phone in your pocket. The hellospoke app gives you the same great functionality as the phone on your desk. You can also plug your desk phone in to your home internet, use a computer softphone, or enable our call forwarding feature.
Pricing
Switching to hellospoke can save small to medium-sized businesses as much as 50% each month over traditional phone services. Click here learn more about our pricing structure, or download and fill out this form for a basic price estimate.
Contact us for more info
We'd love to be part of the conversation
Give us a call at 888 / 955 / 5155 (option 2) or fill out the form below