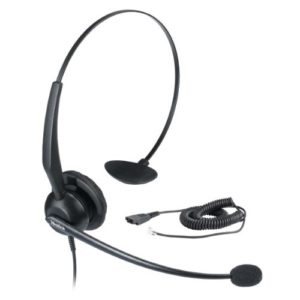 The Yealink YEA-YHS33 headset with noise canceling.
3 reasons we like this headset
Noise canceling. The microphone filters out background noise. No one will be able to hear that co-worker in the background. You know the one.
It's comfy. Super lightweight with soft ear cushion for wearing all day.
Cord length. Enough cord to lean way back in your chair and put your feet up.
The YEA-YHS33 headset is compliant with the full range of Yealink enterprise IP phones. We talk about some of our favorite phones here.
Bonus! You can also order it on Amazon Prime, and get it the same day if you order early enough!
https://www.amazon.com/Yealink-YEA-YHS33-Headset-Noise-Canceling/dp/B003N3RT2S/ref=sr_1_1?ie=UTF8&qid=1534257033&sr=8-1&keywords=YEA+YHS33
*