Project Heating & Cooling …
are you paying too much for your phone service?
This Louisville HVAC company was paying too much
$900
Windstream monthly phone bill
$400
hellospoke monthly phone bill
Switching to a cloud-based phone service can save small to medium-sized businesses as much as
50% each month
over traditional phone services.
why switch to the cloud?
Having your phone system in the cloud means you always have the latest and greatest. Here are a few other reasons you should consider a cloud phone service:
No maintenance costs
All maintenance is handled by the provider with no additional fees.
Provider takes on all the work and risk
The provider will have all the know-how and equipment to keep you up and running. There's no risk to you.
Add or remove users quickly
Only pay for what you need. As your business changes you can add and remove users.
Software updates happen automatically
No need to upgrade anything on your own. The provider takes care of all updates for you, so you always have the latest and greatest.
Easy, quick and cost-effective implementation
You'll be up and running in a few easy steps.
No need for dedicated internal IT resources
Save money and resources because you don't have to have dedicated IT resources to maintain your cloud phone service.
Interested in cloud-based phone service? Contact us today for a demo and pricing.
Here's how our pricing works
General phone that is not tied to a person. Example: break room or conference room.
Includes the mobile app, call recording, call reports, voicemail, auto attendant, and all features.
There's no page limit on inbound faxes, but outbound faxing has a limit of 15 pages.
Our 24/7 monitoring device sends automated alerts so we know your system is handling calls like a boss.

Month-to-month service agreements put you in control.
No long-term commitment, just one simple invoice.
*Government fees and taxes vary for each user and are not shown here.
Does it include long distance?
Yes, long distance is included in the user monthly fee. International calls have a per minute charge.
Is there a fee for extra features?
Each user account comes with the hellospoke mobile app, call recording, online reports, voicemail, auto attendant, 24/7 support, and more. Check out our list of features for more detail.
What if I need to add a user?
No problem! Give us a call at 888 / 955 / 5155 and let us know if you need to add or remove users. Easy as that!
Can I turn off service at any time?
Yes. We'll be sad to see you go, but if for any reason you need to stop service, just let us know and we'll get it taken care of.
Your hellospoke subscription comes with each of these features
The power of your desk phone in the palm of your hand.
Answer
Hold
Conference
Transfer
And more
hellospoke mobile ensures important calls get the attention they deserve even when you're on the go.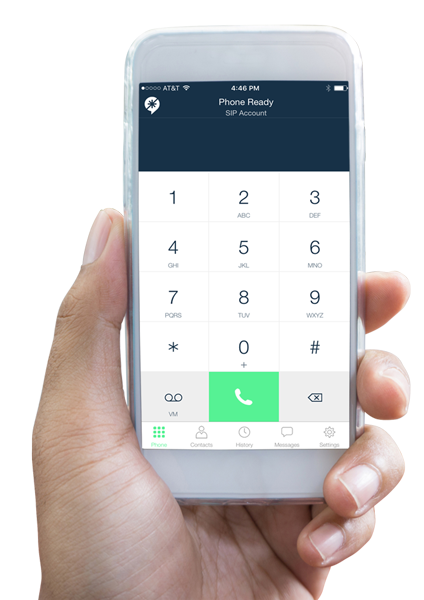 Free for every user
Every user gets the hellospoke mobile app free with their subscription. Once you're set up you can make and take phone calls from anywhere.
If your internet or network goes down, calls can still happen through the hellospoke mobile app.
What our Clients Say
HelloSpoke was by far the easiest and most cost effective way for us to upgrade to VoIP. Using the mobile app allowed us to avoid the hassle and cost of purchasing hardware or running cable, and ended up with a system that was quick to implement with great call quality and mobility.
- Air Systems, LLC
We expect our phones to work. And work all the time. Outside of that, we've never given our phone system much thought. The fact that we could switch to HelloSpoke and get the latest technology and features AND save 40% on our monthly phone bill has been fantastic.
- C & F Insurance
Our move ended up being a disaster! Because of building issues, our people had to work out of both the new and old building for about 10 weeks. Thankfully we had switched to hellospoke, and could operate seamlessly and transfer calls between buildings like they were in the office next door. In our industry, sales are totally dependent on response time, and with hellospoke, we didn't have any lapses in response.
- Republic Pneumatics
Project Heating & Cooling, are you ready to say goodbye to over-priced phone service?
Fill out the form or give Ryan a call at 888 / 955 / 5155 x159 for a no-obligation quote.